Enlist Professional Help For Commercial Tree Care
Whether you own a large plot of land, a residential estate, a factory, school, or anything in-between, you need a commercial tree care service to ensure your property remains maintained and trees are cared for. Our trusted team is also able to provide tree clearance and removal services for those looking to clear a plot of land to make way for property development.
When you enlist our commercial tree care services, we aim to provide you with the most efficient service possible, working towards your exact needs, within your desired budget and timescale.
The team at Broadleaf Tree Surgery are equipped with some of the most up to date and capable equipment available. We can take on large site clearance works through to maintenance works in an efficient and safe manner. We use high-spec equipment to ensure safety of our team and yours with every project undertaken. Click the button below to book our services or request a no-obligation quote.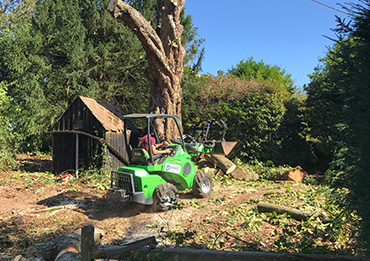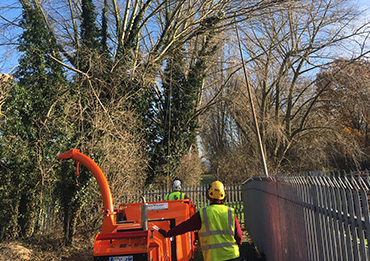 Emergency Call Out Service
Unexpected weather and other natural events could cause damage to your commercial property, and depending on the nature of your organisation, could limit production, sales, or daily activities. Our team wants to be an extension of yours, offering a 24-hour call out service, which includes tree removal, maintenance, and more when it's needed.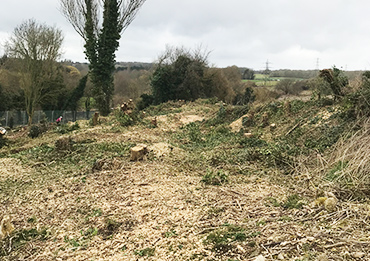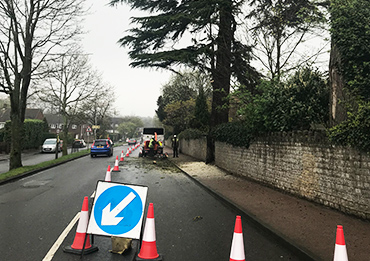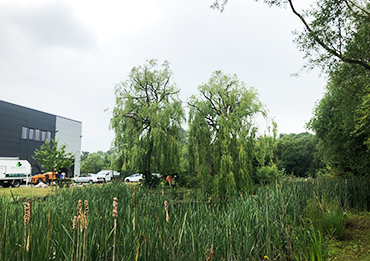 Tree Care Experience Across Several Industries
Our commercial tree care clients include large construction companies, multiple schools, colleges, academies, and more. We serve a number of property management companies that require us to manage multiple sites across the county of Kent and into the London boroughs. Alongside that, we're regularly used by facility management companies who look after large commercial spaces, as well as landscaping companies who require us to prep a site prior to their work. Having achieved both CHAS and Safe Contractor, we can safely and efficiently work to tight deadlines bringing in the results you require.
Commercial Tree Care in Kent
We have over seven years of experience in providing quality arborist services to both residential and commercial properties. Our team offers unbeatable service, with customer care and satisfaction that you can rely on. We carry all of our waste home with us, meaning your commercial property ends up exactly how we left it, with no extra work for you to deal with. Get in touch with our team for a free site visit, where we can offer a no-obligation, accurate quotation.
Commercial Tree Care FAQs
Due to the nature of our industry, it would be unfair to have a set price across all projects. If we did that, you might end up overpaying for our services. Instead, we offer a free site visit and quotation, so you know you are paying a fair price for the commercial tree care we provide. If you need any of our other services, such as hedge trimming, or tree felling, included within your project, we can factor this into your quotation.
Some trees on your property could face restrictions, meaning you might not be able to remove or maintain them without permission. As a professional company, we perform local authority checks before undertaking any project, so you can take comfort in knowing that you won't accidentally break conservation restrictions and regulations.

Trees are an asset and contribute hugely to an area's biodiversity and also provide an area with a certain level of aesthetic appeal. Many village centres are within a conservation area and many old and large, or particularly important trees are covered by a TPO. We can assist you in completing paperwork if a TPO or other restriction needs to be removed, at no extra cost to you.

Yes, we do. We will leave your commercial property as we found it, with no extra waste or mess for you to take care of. Our waste is recycled using a wood chipper, which is then recycled as compost and used on a farm local to Kent. Anything that we can't chip because it's too big is either taken to our yard and left to season for processing into firewood, or chipped by a large biomass wood chipper and recycled. If, for whatever reason, you would like to keep any waste, our team is more than happy to leave wood chips with you, or chop larger pieces into logs if required.
Tree surgery is dangerous to be in, and more often than not we work in confined spaces and with dangerous equipment. Our team understands the need for peace of mind, so we have insurance that covers us, and your property, up to 5 million pounds. We have a 100% safety record, so you can have complete peace of mind when working with our team on commercial tree care.